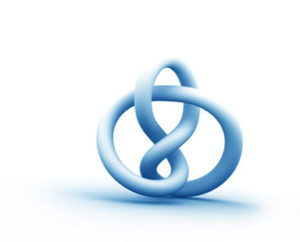 My research in low-dimensional topology is focused on the following projects:
Stability properties of the coefficients of quantum invariants.
Connection between q-series and the skein theory associated with various skein modules.
Invariants of Singular knots
Quandles and their applications to Knot Theory.
For my work on the colored Jones polynomial I often use Mathematica for testing and computation. I have written some scripts to compute the colored Jones polynomial on some knot families that I am making available here.
A list of my articles whose subjects are related to low-dimensional topology are given below.
The coefficients of the colored Jones polynomial
Singular knots invariants
The Jones polynomial and its generalizations 
On Rational Knots and Links in the Solid Torus, (Joint work with Khaled Bataineh, Mohamed Elhamdadi), submitted, 2017.
Jones polynomial for links in the handlebody (Joint work with Khaled Bataineh), Rocky Mountain Journal of Mathematics, Vol. 43, No. 2, 2013.